Serena leads their matches 3-1. Muguruza's only win  was at the French Open 2014 when she won 6-2, 6-2.
Serena has not looked good since she destroyed Svitolina 6-1, 6-1 in the 4th round.  Putintseva should not have given her so much trouble and Bertens was injured herself and still had a great chance to win. We have seen this before from Serena. She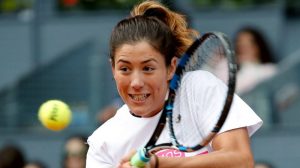 looks to be struggling but for the big matches she is suddenly fine. The added factor for her is that she is trying to get her 22nd slam title. That would equal Steffi Graff's achievement. She won her 21st slam at Wimbledon last season beating Muguruza in the final. Nerves played a part in her loss to Kerber in the Australian Open Final in January. She has achieved so much in her career that making history and breaking records might seem like all she has to aim for.
Marion Bartoli said after Serena's win over Bertens that the American was suffering with an injury and in her press conference when asked about it she admitted she has a problem but that was about all she said on the subject.
Muguruza has not had a bad season but for a player ranked 4th in the world she has underachieved so far in 2016. This is her first final of the year. She lost to Madison Keys in the semi final in Rome last month. In the past and perhaps even as recently as that Wimbledon final last season she had a reputation for failing when the pressure was on in the big matches. She has gone some way to alter that perception of her and obviously a win today would put that to rest once and for all.
She has been playing great tennis in this tournament. In the first round we were maybe thinking it was going to be another poor result when she lost the opening set to badly out of form Schmiedlova but she steadied the ship to get through it in 3 sets. Her next two opponents looked unlikely to give her many problems and that proved to be the case as Wild Card Myrtlle Georges and then Wickmayer were beaten in straight sets. Many people, myself included, expected Kuznetsova to put her under real pressure but she went up a gear or two. Even with the slight lapse in concentration in the second set it was an impressively strong performance.
Shelby Rogers has had a dream tournament and did put Muguruza under pressure in their quarter final but was still despatched in straight sets. In the semi final Sam Stosur was never really in the running as Muguruza gave us a display of power tennis that not many opponents could have dealt with.
I am going with the underdog today. We don't often see Serena at 1.65 in a final and this reflects the fact that she is not 100%. . Serena has only ever lost 3 slam finals but she lost this year's Australian Open to Kerber with that pressure of the 22nd slam title weighing heavily on her shoulders. I think we have a decent chance today of seeing Muguruza grab the first major of her career.