Kerber leads the head to heads 3-2. Their last meeting was in August 2014. Venus won in Canada in 3 sets on a hard court.Their only grass match was at the London Olympics and Kerber won in 2 tie breaks.
Kerber has not dropped a set so far. Her toughest match by far was the quarter final with Halep. I have read this morning that Kerber was average in that match. I don't agree at all. Both players' ground strokes were of a very high level. Don't be fooled by the high number of breaks. Serve was broken in 9 of the 12 games in the opening set. This was partly due to nerves but was also because of the server knowing that her opponent was going to attack any below par delivery.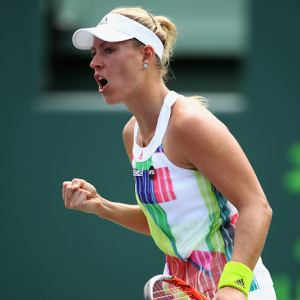 Sure Halep has been below her best this year but she is still a top 5 player. In the past her groundstrokes would have prompted a collapse from Kerber but not this time. Her win at the Australian Open in January has given her an extra level of self belief in her game that she can call up on when the pressure is on.
Venus has had a superb tournament. She has been under pressure in every match. She won all of her opening sets but there were 3 tie breaks and two 7-5's. Her opening set with Shvedova was very tight. Both players had a few break chances and it was Shvedova who took the first break. She couldn't hold on to it though and the set went to a tie break for Venus. Shvedova was 5-2 up in that tie break but Venus took the next 5 points. Their second set started with 3 breaks of serve but when Shvedova was broken for a third time in the set it was all over.
I expect the sets to be very tight in this one. I am slightly favouring Kerber. Both players can have a shocker at any time but she has shown that she is a little more equipped now to handle the big occasion.
Venus' last Wimbledon semi final was in 2009 and she has won the title 3 times. She never lost a Wimbledon semi final.
This looks certain to go to 3 sets. Kerber starts around 1.37 which seems a little crazy. I will be laying below 1.30 in the early games.