WTA Cluj, Quarter Final
Kr Pliskova v Buzarnescu
Due to start at 11:30
Buzarnescu 1-0 (May 2018, clay, 2 sets). Long term clay win % are a little better for Buzarnescu . Her clay results in the last 12 months and in 2021 are a little better.
Neither player has lost a set this week.
Pliskova started her last match very badly. She faced 20 bp though was only broken 4 times. She hit 8 d faults. She was more solid on serve in the first round. She reached the q finals in the Belgrade Challenger last week.
Buzarnescu was broken 4 times in the last round. Her second serve needs to improve today. She reached the semis in Bastad last month
Stats for the tournament favour Buzarnescu for everything except service holds which Pliskova leads 70% v 65%. Back Buzarnescu around 2.30 and remove some or all liability at 1.65. Lay the set 1 winner.
I give Buzarnescu a slight edge to win a tight match.
Update: Slow start from Buzarnescu. She was 40-0 up in her first service game but was broken. Pliskova took a 3-1 lead and the entry price was easily reached. Buzarnescu recovered to 4-3 and we easily had our exit price. A late break gave Buzarnescu the set.
In set 2, an early break was enough to give Buzarnescu the matches. She won 7-5, 6-3.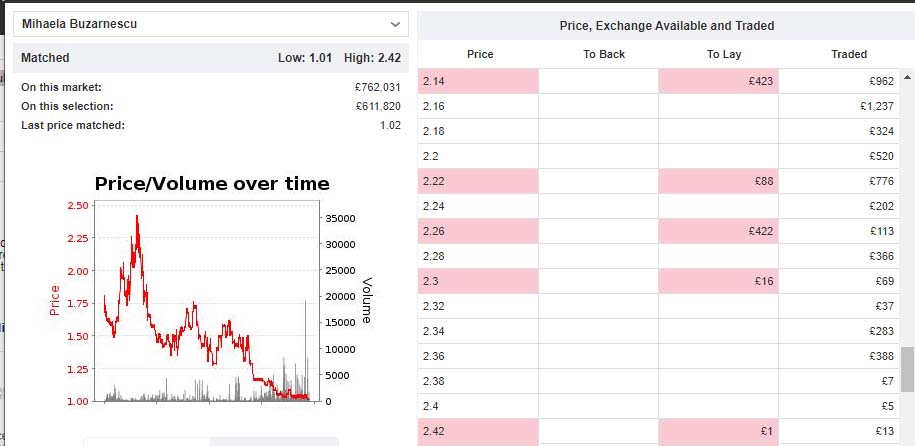 WTA San Jose, Quarter Final
Kasatkina v Linette
Due to start at 7 pm
Linette 1-0 (Jan 2018, hard, 2 sets). Long term overall win % favour Kasatkina. She won 35 of her last 50. Linette won 27 of 50. On hard, Linette has a better long term win %. Kasatkina's hard results in the last year and in 2021 are better.
Tough match for Kasatkina in the last round, beating Garcia in 3 sets. Garcia really raised her level in that match.
Linette beat Martic in 2 close sets as underdog in the last round.
Decent chance of 3 sets but I favour Kasatkina to win. Back her around 2.20 and remove liability around 1.65. Back her if she loses set 1.
Update: Kasatkina faced 3 break points in her first service game but held. She took the first break of serve 3 games later but was broken straight back. She broke again straight away and that was enough to take the set.
In set 2, Linette took a 2-0 lead but was broken straight back. She was broken again but levelled the set at 3-3. Another break of the Kasatkina serve gave Linette a chance to serve for the set. She had to save 2 break points but held her serve.
Kasatkina was broken in the first game of the final set which gave us our entry price. She eventually broke back to 3-3. When Linette served at 4-5 she was broken.
Kasatkina won 6-4, 3-6, 6-4.
These tips are taken from the Tennis Trading Tips email. Get information, stats and tips on every main tour match 7 days a week. Every day, I research all the ATP and WTA matches and write trading notes for my own use. I refer to these notes during the trading session and will not trade a match until I have used the notes to remind me of my trading plan for that match.
I will email you my notes 7 days a week.

Click here to sign up NOW>>>