Maybe it's just me but it feels like we are getting more tournaments affected by rain. Obviously you can get rain almost anywhere so it is always a possibility. Look at Wimbledon. It is played in the middle of summer but no one is surprised when at least a couple of days are hit by rain delays. Naturally, that prompts foreigners to churn out the same old tired jokes about the English summer. Oh, how we laugh.
The ATP Sahara Masters would probably be the nearest we could get to a venue that could guarantee a dry week so surely with so many rain delays during a season the players, or at least their coaches, have a plan to cope with the disruption to their routine.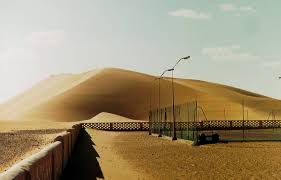 In an interview with Tennis Life Michael Joyce, who coached Maria Sharapova and Victoria Azarenka, talked about how he advises players to deal with rain delays.
"TL: What do you tell your players during rain delays ? Is it a lot of trial and error trying to find the right balance?
JOYCE: No question. Everybody's different in their ability to manage their focus during uncertain weather conditions. Maria was amazing at being able to stay calm during breaks, but never too relaxed. The thing to remember is you're still playing a match. As much as you may want the match anxiety to be over, you have to manage it, knowing that when play will resume is completely out of your control.
TL: Like dropping the engine from in gear to neutral, but not turning the engine off?
JOYCE: Yeah, that's pretty accurate. Today, with the tournaments being far more technologically advanced, the bigger ones have the weather radar which is a pretty accurate predictor of conditions, though not perfect. It's way better than how it used to be, though. The tournament referees are pretty good at telling you whether to stay on the court, or give you a "not before" time. But you have to be vigilant. That's where the team comes in to play.
TL: Did your experience playing the tour help you as a coach in learning how to engage your players during breaks?
JOYCE: Ha. Yes, definitely. In 1996, I was playing Wimbledon. I had a great tourney the year before, making the fourth round. … First round, I get an Italian, Andrea Gaudenzi. We started on a Monday, he ended up beating me in five sets ending on Thursday or something. It was crazy; had to be like a dozen stoppages. I had never played a match like that before.
Rain delays are a staple of trying to compete at Wimbledon – unless you're on the roofed Centre Court.
My mom and dad were there. Every time the rain would come, my dad could get really in to it. I was barely off the court, and there goes my dad breaking it all down for me. The first couple times it was no big deal. By the fifth or sixth break, he was killing me. It was a total up-and-down match. If I was struggling, he would come up with all these new strategies. Finally, my mom wouldn't let him talk to me anymore!
I learned a lot then, though not to over-coach. Sometimes you have to play mind games.  It can be really hard when you're playing really well and then the rains come. So rarely does a player resume play at that same peak level. You know your opponent is going to come back giving everything they have, making adjustments, etc.
But mostly, my best advice is don't overthink it. If the break is long, you just want to do all the things to make sure your player is as prepared as possible to get back out there to compete."
The players need to manage their body
Players have more than a coach on their team. the Physio plays an important role in delayed matches. It can be difficult to know when the match will resume although the improvements in technology have made this a little easier and tournament officials will give at least 30 minutes warning of a match resuming. For longer delays the teams are give a "not before time" which allows them to manage their player's body.
For shorter delays they want their player to rest but not so much that their body cools down and muscles start to stiffen.
For longer delays when the players actually leave the court they will ideally get their player to change clothes. The players will go through stretches to try to avoid their muscles stiffening as they cool down. Each time the match resumes they will go through their warm up routine as if it was the start of a new match.
What about the mental side of dealing with delays?
Momentum plays a huge part in tennis matches and rain delays destroy momentum. When you consider that the slightly longer break between sets can totally change momentum and many players use "tactical medical timeouts" to disrupt their opponent's concentration and focus, a rain delay of anything from 30 minutes to a day can dramatically change the outcome of a match.
If a player was in control of the set or maybe even the match before the rain comes down it can easily shift the advantage away from the leading player. If they had chances to close out the set or the match but failed to take them it means they have a lot of mental turmoil to cope with. The longer the delay, the more time they can beat themselves up for not being able to finish the job.
So which players do the rain delays help?
For shorter delays the advantage should favour the players with more experience or those with the more experienced teams. However as the delay will wreck momentum it favours the player who is behind.
For longer mid match delays, again, it should be the more experienced players who know how to handle the disruption. The elite players have reached that level because of their attention to every detail of their game including the physical and mental excellence that is required. They handle delays better than the rest but the next tier of players do not tend to handle this situation as well. It is almost as if they think they are "big time Charlies" and should not have to be kept waiting.  So often we see a game resume and the lower ranked player just seems to want it more.
I have been trading tennis matches since 2008 and the simple fact is that unless you have some inside info from the player's camp ( which obviously we don't have! ) there is no certain way of knowing who will handle the delay the best. I DO know that strange shit happens after the rain clouds have gone so be careful with those trades.
Get the Tennis Trading Guide – www.tradesharktennis.com