They are done with the round robin matches. The 4 top players are in action today.
EXHIBITION = REDUCED STAKES!
I think that the third set will be a normal set rather than just a tie break.
Thiem (1.35) v Bautista Agut (3.7)
Due to start at 12:30
Bautista Agut leads their previous meetings 3-1. All 3 of his wins were in 2015 on hard and indoor hard courts. Thiem won their most recent match in September 2018. It was on an indoor court in the St Petersburg semi final. He won in straight sets.
Overall results favour Thiem in the last 12 months and also in 2020. His clay results are also much stronger. He has won 19 of 21 clay matches in 2020.
Thiem has not lost a set so far although all his sets have been tight. He has been broken just twice in 3 matches. He has only broken his opponent 6 times with 3 of those coming against Rublev.
Bautista Agut has only been broken in one of his matches. In the 2 matches that he won he faced just 1 break point. He was broken 3 times by Berrettini who played a very strong match.
I have to give Thiem the edge on clay although his return game has not been as sharp as normal. We can expect close sets so Thiem's price is not value. Bautista Agut stepped up his game in the last match and he should compete today. Lay Thiem around 1.20 to 1.25 and remove the liability around 1.45 to 1.50. Back Thiem if he goes a break behind or loses set 1.
Update: Thiem took an early 4-1 double break lead but Bautista Agut fought back to take the set in a tie break. Thiem eventually got the break in the second set and was also the stronger player in the deciding set.
Thiem won 6-7, 6-2, 6-2.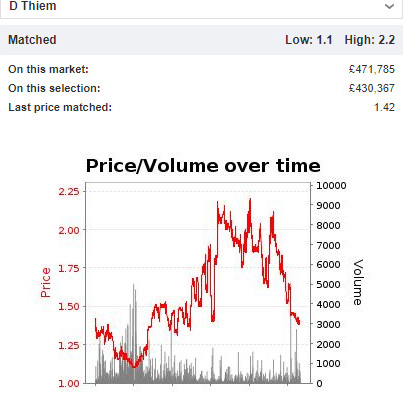 Berrettini (1.90) v Rublev (2.02)
Due to start at 2 pm
Berrettini leads their previous meetings 3-1. Three of their matches were in 2019. Berrettini won indoors in Vienna in October 7-5, 7-6. In August he won in straight sets at the US Open on a hard court 6-1, 6-4, 7-6. Rublev's win was in February 2019 indoors and he won 6-3, 7-6. Their only clay match was in Gstaad in July 2018. Berrettini won 6-3, 6-3.
Overall results are much stronger for Rublev in the last 12 months and also in 2020. Both are strong on clay. Berrettini has the better long term record on this surface as Rublev has improved his clay game in the last 12 to 18 months.
Berrettini was strong in his first 2 matches of the week and won both in straight sets. Yesterday his intensity was a little lower. He created plenty of chances against Khachanov but didn't take them. He broke just once from 8 break chances. Perhaps he was not giving 100% as he knew he had done enough to get through to this stage of the tournament.
Rublev's serve has come under pressure this week and he looks a little more vulnerable than today's opponent.
The sets are going to be close. It isn't surprising that players' serves are the better part of their game after a long lay off. Their timing on the return of serve and ground strokes in general will take a bit longer to get back.
I am giving Berrettini a slight edge for this one. Lay Rublev around 1.70 and remove liability around 2.30. Lay the set 1 winner.