I'll try to post daily. Not a lot else to do right now!
A lot has happened in the 5 days since the WTA and ATP tours were cancelled. I had read last week that the WTA was suspended for 5 weeks but it really depends where you get your information from! It's probably 6 weeks like the ATP.
The UK Government have suggested that we practice social distancing. They said that we are a nation of intelligent, responsible individuals and that it was unnecessary to enforce it. They ( the Government ) really should get out more. That's only suggestion.
I took the dogs out twice yesterday. I didn't come within 10 metres of anyone. I have never seen the pub car park so full. It was full at 11am. Its amazing how many people had to make a vital trip to the pub.
There a people all over the news and on social media asking the nation to stop being selfish and to stop panic buying. Do these people live in a different country to me? As a nation I wouldn't say we cope well. The old "stiff upper lip" has become a quivering bottom lip. If they get scared they are going to panic buy. Also the problem with panic buying is a bit of a snowball effect. If others are panic buying and clearing the shelves then others are forced to do the same. If things get worse (and that seems likely) and steps are not taken to control the situation there will be fights and in some areas food riots. We are already seeing people taking items out of other shoppers unattended trolleys.
The French Open has been moved to September. Just a week after the US Open ends. The players have not welcomed the move.
World number 93 Vasek Pospisil, who sits on the ATP Players Council, slammed the decision as "selfish" and "arrogant" and added that it showed the players had no say in the running of the sport.
"This is such a difficult time, everyone is being impacted by this catastrophe. Enhancing communication and working together to find solutions should be the priority," he posted on Twitter.
The new date for the French Open means it will coincide with several other tournaments. Roger Federer's Laver Cup team tournament also clashes with the new date for the French Open. They have said they will still go ahead with it.
The US Open tweeted about their own plans which was clearly prompted by the French Open announcement.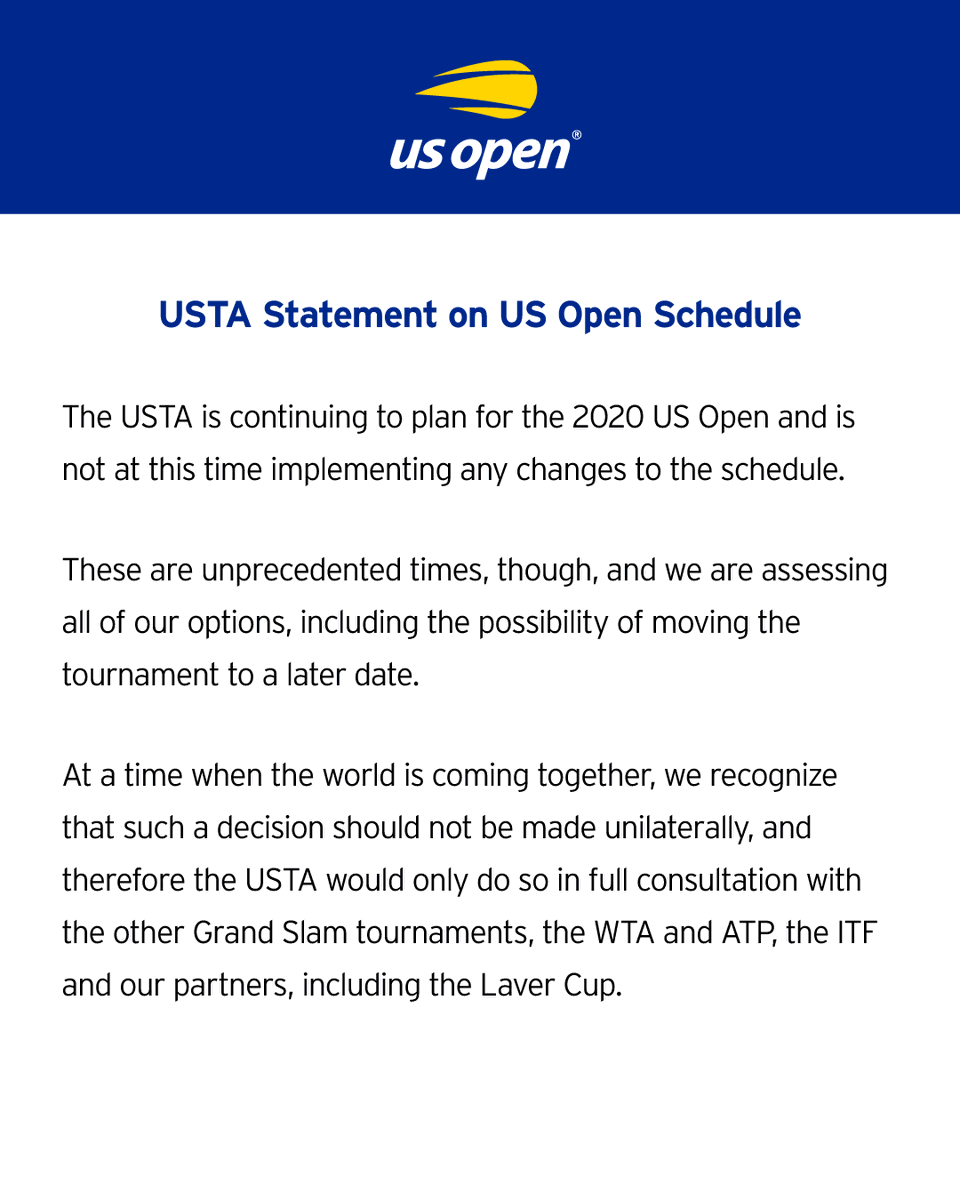 As I said a lot has happened in the last few days so no one can say with any certainly what will happen in the next 5 weeks.