The tournaments in China have been cancelled.
https://www.forbes.com/sites/daniellerossingh/2020/07/24/cancellation-of-china-tennis-swing-huge-blow-for-fans-players-and-tours/
Face masks became mandatory in shops today. As there seems to be a lot of people against being "muzzled" I wasn't sure how many people would have a mask on in the local Tesco. Most of the retail companies have said that they won't enforce the wearing of face coverings and the police have also said that they don't have the resource to patrol stores.
Twitter is rarely an accurate representation of what is happening. People often make big statements from the safety and anonymity of their keyboard or mobile phone. There were a few reports of shoppers in some stores not wearing them. I had some shopping to do before I picked Sue up from work. Whilst I was happy to wear a mask it felt a bit odd walking from the car. Everyone that I saw coming out had a mask on and everyone entering at the same time as me wore one. In fact I didn't see a single shopper without a mask on. Even young kids had them on even though under 11's are exempt.
Masks are not mandatory for shop workers and again the mighty Twitter was full of complaints of staff without masks on the shopfloor while picking the online shopping orders etc. Every member of staff that I saw on the shopfloor had a mask on. Only the checkout operators didn't have one on.
There were just a couple of matches that looked like offering a decent trade. There were actually other good looking ones but not all of them were covered by Betfair.
The tournament I chose had 4 matches today. Three of them ended in retirement! Both the matches I put on the blog gave good chance of profit.
Sue's ward is no longer a Covid ward. The bays are currently being deep cleaned. Any more Covid patients will be taken to the respiratory ward apparently. From a purely selfish point of view that is great news. She won't be dealing with Covid positive patients any more.
During the lockdown I have been trying to decide whether I need 4 screens plus the 2 laptops. I didn't think I did but one of the screens is not a widescreen one. I held off from replacing it as if I was going with 4 + 2 screens I would have got another twin monitor set like the one I already have. Those are 24 inch screens. I have replaced the old monitor with a 22 inch widescreen one. More than enough screen space as you can see.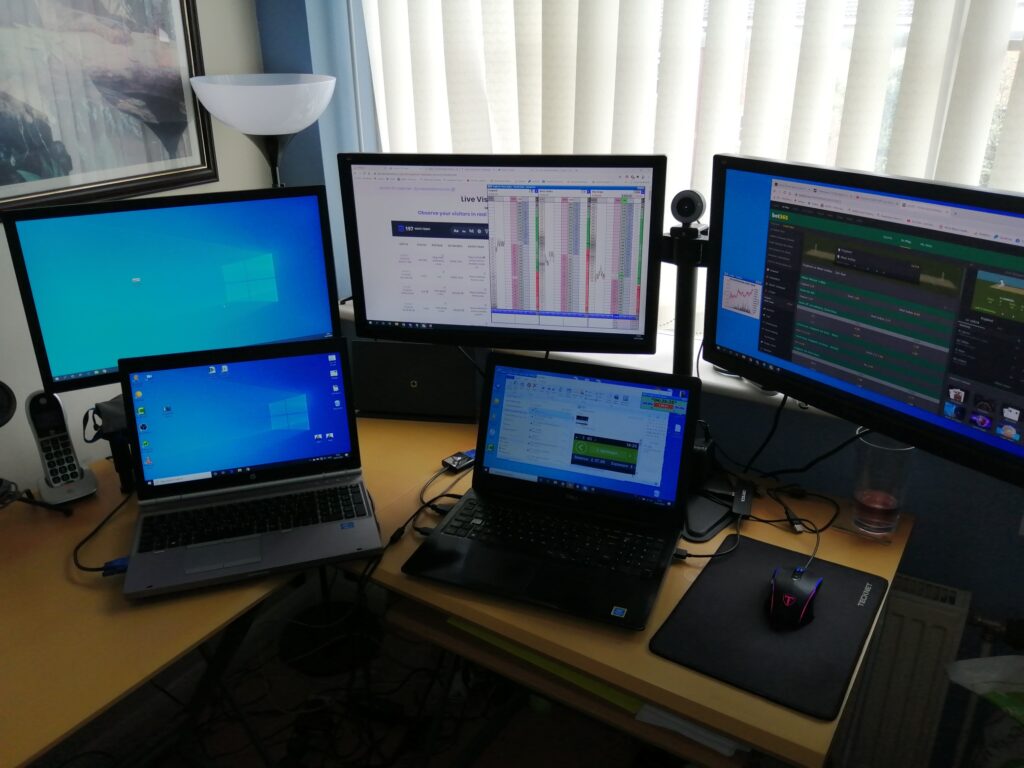 All 5 screens use the same mouse which is handy.
Stay safe.